22.07.2016 | Ausgabe 5/2016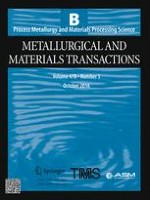 The Role of Expansion and Fragmentation Phenomena on the Generation and Chemical Composition of Dust Particles in a Flash Converting Reactor
Zeitschrift:
Autoren:

Cirilo Andrés Duarte-Ruiz, Manuel Pérez-Tello, Víctor Roberto Parra-Sánchez, Hong Yong Sohn
Wichtige Hinweise
Manuscript submitted April 6, 2016.
Abstract
A compositional fragmentation model was used to clarify the effect of expansion and fragmentation phenomena on the generation and chemical composition of dust particles in a flash converting reactor. A fragmentation index is introduced to represent the fraction of particles undergoing fragmentation, as opposed to expansion, within the particle population. Under typical operating conditions, the local dust content and the net amount of dust generated compared with the dust content in the feed first decreased and then increased along the reactor length, whereas the amount of particles undergoing fragmentation (fragmentation index) increased steadily. Dust generation was found to be the result of two competing phenomena,
i.e
., the expansion of dust particles in the feed and the production of dust from fragmentation of large particles. At short distance from the burner tip, the dust mostly consists of particles in the feed undergoing oxidation and expansion, whereas farther down the reactor it mostly consists of fragments of partially reacted particles. Based on the computer simulations under a variety of experimental conditions, a map of dust generation against fragmentation index was developed. For most practical purposes, dust generation may be approximated by the change in the mass fraction of dust in the population. At the reactor exit, the composition of the dust is approximately the same as the entire particle population.