01.08.2016 | Ausgabe 1/2016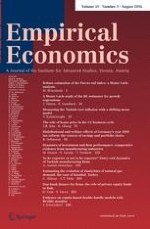 The role of house price in the US business cycle
Zeitschrift:
Autoren:

Jan R. Kim, Keunsuk Chung
Abstract
This paper examines the importance of house prices on the US business cycle since the mid-1970s. The point of departure is to construct and estimate a baseline Markov-switching common factor model in which the co-movement of several individual economic series and the inherently different behavior of the economy across expansion/recession phases are accommodated. The importance of house price variables is then evaluated by comparing the results of the baseline model and those of the extended models that have been augmented with the house price variables. Two strands of extended models are considered: one in which house prices directly affect the individual macroeconomic series (and thereby the business cycle) and another in which house prices affect the probabilities of transitions between expansion/recession phases. The results for the first extension support that only house price
decreases
have nontrivial effects on the movements in macroindicators (and consequently on the business cycle), while house price increases do not. In the second extension, we find strong evidence that changes in house prices significantly affect the transition of the US economy between the recession–expansion phases. It is also reaffirmed that the influence of house price decreases is more important than that of the increases. Finally, the above results are generally robust to using a different data frequency, a subsample of the data excluding the recent episode of housing boom–bust, replacing house price with housing permits, and incorporating financial variables as additional driver of the business cycle.