06.03.2020 | Ausgabe 5/2020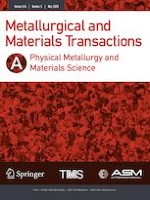 The Role of Internal Oxides on the Liquid Metal Embrittlement Cracking During Resistance Spot Welding of the Dual Phase Steel
Zeitschrift:
Autoren:

A. Ghatei Kalashami, C. DiGiovanni, M. H. Razmpoosh, F. Goodwin, N. Y. Zhou
Wichtige Hinweise
Manuscript submitted November 26, 2019.
Publisher's Note
Springer Nature remains neutral with regard to jurisdictional claims in published maps and institutional affiliations.
Abstract
One of the most effective ways to improve reactive wetting of dual phase (DP) steels during galvanizing process is annealing under relatively high oxygen partial pressure. This annealing process can lead to internal oxide formation rather than external ones. Since these oxides are mostly observed in grain boundaries (GBs), their presence could influence GB-related phenomena such as liquid metal embrittlement (LME) cracking during further manufacturing processes such as resistance spot welding (RSW). The present work has shown that internal oxides located at GBs assisted LME crack formation during RSW of DP steel. Two types of LME cracks were observed in the shoulder and center of the weld. It has been shown that at the initial stages of welding time, LME cracks initiate in the shoulder of the nugget by the Zn diffusion into oxide-bearing GBs. As welding time continues, higher temperatures and tensile stresses are applied to the steel sheets which allow center cracks to be formed more easily due to the presence of oxides which degrade the GBs.