01.04.2013 | Research Paper | Ausgabe 4/2013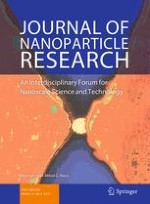 The role of polyaniline in the formation of iron-containing nanocomposites
Zeitschrift:
Autoren:

Lorena M. A. Monzon, Karl Ackland, Saba Mosivand, M. Venkatesan, J. M. D. Coey
Abstract
Polyaniline (PANI)-coated iron-based nanocomposites with a range of magnetisation and coercivity values were produced by in situ polymerisation of aniline and chemical reduction of Fe
3+
by BH
4
−
. We have varied the ratio of aniline to iron, keeping the amount of BH
4
−
added constant, and vice versa. Room-temperature magnetisation loops, X-ray diffraction patterns, Mössbauer spectra and transmission electron microscopy images show that PANI plays two distinct roles: on the one hand, it coats the iron particle surface, preventing oxidation of the Fe cores and, on the other, it enhances the formation of an Fe
100−

x
B
x
alloy. The incorporation of boron in the alloy is facilitated by the polymer entrapment of small Fe nuclei. The mean particle size determined for composites obtained with low PANI content is (50 ± 20) nm, while for PANI-rich composites (30 ± 10) nm particles are formed.