01.06.2019 | Original Article | Ausgabe 11/2019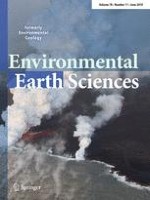 The role of porewater exchange as a driver of CO2 flux to the atmosphere in a temperate estuary (Squamish, Canada)
Zeitschrift:
Autoren:

Rowena M. Diggle, Douglas R. Tait, Damien T. Maher, Xander Huggins, Isaac R. Santos
Wichtige Hinweise
Publisher's Note
Springer Nature remains neutral with regard to jurisdictional claims in published maps and institutional affiliations.
Abstract
Porewater exchange is an important yet poorly understood component of the coastal carbon cycle. Here, a high-resolution automated radon (222Rn, a natural porewater tracer) and CO2 time series was conducted in the Squamish Central Estuary (Canada) over eight consecutive tidal cycles to assess the relative importance of porewater exchange on estuarine carbon dynamics. Radon and CO2 observations revealed a clear tidal trend which is indicative of porewater exchange driven by tidal pumping. A radon mass balance indicated an average porewater exchange rate of 14.9 cm day−1 (4.3% of the tidal prism). The estuary was a net source of CO2 to the atmosphere (average 212 ± 19 mmol m−2 day−1). Porewater exchange accounted for 9%, 5% and 30% of net dissolved organic carbon (DOC), dissolved inorganic carbon (DIC) and CO2 exported out of the Squamish Central Estuary, respectively, while porewater inputs of free CO2 accounted for 38% of the atmospheric evasion. These flux estimates as well as strong correlations between pCO2 and 222Rn suggest that porewater exchange has a strong influence on CO2 concentrations in the estuary even though they are a small contributor to overall DIC fluxes.