01.02.2011 | Ausgabe 1/2011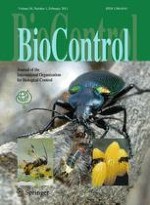 The role of synergistic action and molecular mechanism in the effect of genetically engineered strain
Bacillus subtilis

OKBHF in enhancing tomato growth and Cucumber mosaic virus resistance
Zeitschrift:
Autoren:

Shuai Wang, Huijun Wu, Jiang Zhan, Yanfei Xia, Shengfeng Gao, Weiduo Wang, Pengqi Xue, Xuewen Gao
Wichtige Hinweise
Handling editor: Reijo Karjalainen.
Authors Shuai Wang and Huijun Wu contributed equally to this work and are regarded as joint first authors.
Abstract
Bacillus
subtilis
is well known for its biocontrol activity against several plant pathogens and for its role in promoting plant growth. HpaG
Xooc
, from rice pathogenic bacterium
Xanthomonas
oryzae
pv.
oryzicola
, is a member of the harpin group of proteins. It is known to elicit hypersensitive cell death in non-host plants, thereby inducing disease and insect resistance in the plants and enhancing plant growth. In our previous experiment, we constructed a genetically engineered strain—
B. subtilis
OKBHF—through the introduction of the gene encoding HpaG
Xooc
into
B. subtilis
OKB105 in order to combine the effects of HpaG
Xooc
and wild-type PGPR in improving the plant growth rate and for biological control. In this study, we evaluated the use of treating the tomato plant with
B. subtilis
OKBHF. The results of greenhouse experiments demonstrated that OKBHF treatment had a significant effect on increasing the height, fresh weight, and flower and fruit number and obviously lowered the disease severity of Cucumber mosaic virus (CMV) infection at 28 days postinoculation (dpi). Subsequent reverse transcription-polymerase chain reaction analysis revealed the molecular mechanisms of HpaG
Xooc
and
B. subtilis
in the tomato plant, suggesting their synergistic roles in inducing enhanced expression of three expansin genes
LeEXP2
,
LeEXP5
, and
LeEXP18
, which regulate plant cell growth, and two defense-related genes
Pti4
and
Pti6
, which activate the expression of a wide array of
PR
genes and one defense gene,
PR-1a
.