2021 | OriginalPaper | Buchkapitel
5. The Second
Chimurenga

: Guerrillas-Peasants, Spirituality and Patriarchy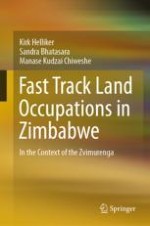 Erstes Kapitel lesen
Autoren: Kirk Helliker, Sandra Bhatasara, Manase Kudzai Chiweshe
Abstract
In the light of the previous chapter, this chapter provides a further analysis of the second
chimurenga
by identifying and discussing a number of themes. It does so primarily in order to set a comparative basis for analysing the third
chimurenga.
Crucial in this regard is the relationship between guerrillas and villagers during the second
chimurenga
, as this speaks to the significance of the relationship between war veterans and occupiers during the fast track occupations (third
chimurenga
). One the key themes covered in the recent literature is spirituality, with an increasing move away from examining spiritual mediums and other traditional forms of spirituality, to an examination of the relationship between Christian missions, guerrillas and villagers. As well, in the Rhodesian countryside, a number of local patriarchal systems existed, which included chiefs in Native reserves and white farmers on commercial farmers. Whether intentionally or not, the very presence of male guerrillas challenged the authority of these patriarchs. Finally, in the context of patriarchy, the chapter considers the multi-faceted experiences of different groupings of women during the war of liberation.