2017 | OriginalPaper | Buchkapitel
13. The Shanxi Gerbils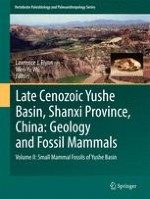 Erstes Kapitel lesen
Autoren: Lawrence J. Flynn, Wen-Yu Wu
Verlag: Springer Netherlands
Abstract
Despite the wealth of small mammals in the Late Neogene of Yushe Basin, gerbils are not an abundant or diverse element. A single genus,
Pseudomeriones
Schaub, 1934, is known in the Miocene-Pliocene deposits of Yushe, although the Pleistocene introduces a new fauna containing
Meriones
Illiger, 1811. The well-known species
Pseudomeriones abbreviatus
(Teilhard de Chardin, 1926) is recorded in the Pliocene deposits of Zhangcun subbasin, south of Yushe. Whereas this species remains undocumented for Yuncu subbasin, Miocene age sediments have produced a lower crowned member of the genus,
P. latidens
Sen, 2001. We describe these remains and summarize their stratigraphic occurrence. The low crowned Miocene Yushe material suggests that the
Pseudomeriones
lineage involves increasing hypsodonty, with latest Miocene and Pliocene
Pseudomeriones abbreviatus
showing greater crown height than older late Miocene
P. latidens
.