01.02.2010 | Original Paper | Ausgabe 1/2010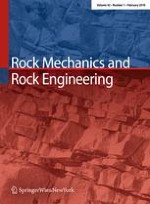 The Shear Behavior of Bedding Planes of Weakness Between Two Different Rock Types with High Strength Difference
Zeitschrift:
Autoren:

A. H. Ghazvinian, A. Taghichian, Mahmoud Hashemi, S. A. Mar'ashi
Abstract
In this article, the shear behavior of discontinuities caused by bedding planes of weakness between two different rock types with high strength difference is investigated. The effect of roughness and compressive strength of joint wall in such discontinuities are studied. The designed profiles consist of two regular and three irregular artificial joints molded by three types of plaster mortars with different uniaxial compressive strengths. Firstly, it is demonstrated that the shear behavior of discontinuities with different joint wall compressive strengths (JCS) is different from rock joints with identical wall compressive strengths by showing that Barton's empirical criterion is not appropriate for the former discontinuities. After that, some correlation equations are proposed between the joint roughness coefficient (JRC) parameter and some surface statistical/fractal parameters, and the normal stress range of Barton's strength criterion is also modified to be used for such discontinuities. Then, a new empirical criterion is proposed for these discontinuities in such a way that a rational function is used instead of JRC log
10
(JCS/
σ
n
) as
i
0
(
σ
c
/
σ
n
)
a
/[
b
+ (
σ
c
/
σ
n
)
a
] by satisfying the peak dilation angle boundary conditions under zero and very high normal stress (physical infinite normal stress causing zero peak dilation angle). The proposed criterion has three surface parameters:
i
0
,
a
, and
b
. The reason for separation of
i
0
from JRC is indicated and the method of its calculation is mentioned based on the literature. The two remaining coefficients (
a
and
b
) are discussed in detail and it is shown that
a
shows a power-law relationship with
b
, introducing the coefficient
c
through
b
=
c
a
. Then, it is expressed that
a
is directly related to discontinuity surface topography. Finally, it is shown that the coefficient
c
has higher values in irregular profiles in comparison with regular profiles and is dominated by intensity of peak dilation angle reduction (majorly related to the surface irregularity and minorly related to roughness). The coefficient
c
is to be determined by performing regression analysis on experimental data.