08.11.2020 | Ausgabe 3/2021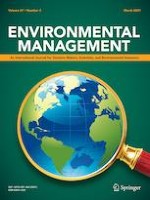 The Small-Scale Treatment Plant Industry: Institutional Features of Companies, Problems and Functionality of Small-Scale Treatment Systems
Zeitschrift:
Autoren:

Ahmet Altin, Hasan Tezcan Uysal, Süreyya Altin
Wichtige Hinweise
Publisher's note
Springer Nature remains neutral with regard to jurisdictional claims in published maps and institutional affiliations.
Abstract
The purposes of this study is to show the corporate characteristics of companies which have been operating in the fields of small-scale treatment plants' (SSTPs') design, construction, and installation processes, and to exhibit findings/perceptions of company employees on issues such as the initial investment and operating costs, common production and operating problems, the functionality of the small-scale treatment systems and the added value they provide to their customers' facilities. As a result of this study, it was determined that when the personnel participating in the survey were directly trained and recruited by the companies, which is generally the case, their training includes more practical methods and their experiences are shaped by the master-apprentice relationships in the sector. Regarding water treatment in SSTPs, the companies surveyed opted for traditional methods such as reverse osmosis and coagulation-flocculation, and preferred to use traditional biological treatment units—continuous flow or sequencing batch reactors (SBRs)- in wastewater treatment. In favor of businesses in need of water and wastewater management systems, the surveyed company employees have considered SSTPs as a successful, competitive advantage in the industry by maintaining low initial investment and operational costs while fulfilling the relevant environmental legal obligations. After examining the data regarding the opinions of company employees about SSTPs, it was found that there is a very significant relationship between the problems experienced during the installation/construction process and the problems during their operation.