2016 | OriginalPaper | Buchkapitel Open Access
10. The Social and Solidarity Economy: Why Is It Relevant to Industrial Ecology?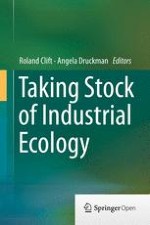 Autor: Marlyne Sahakian
Abstract
The goal of this contribution is to illustrate the linkages between industrial ecology (IE) and the social and solidarity economy (SSE), an economic paradigm that is robust in terms of conceptual and historical developments, and active around the world as a social movement. The SSE includes a range of activities, such as fair trade, community currencies and some forms of peer-to-peer sharing, to name but a few. The links and tensions between SSE and IE are considered first conceptually, by uncovering the theoretical frameworks attached to each field. Three 'solidarity' practices are then discussed in relation to industrial ecology activities, namely: aspects of the sharing economy, community currencies and forms of crowd-funding. A main finding is that the two fields of research and practice are compatible, as neither focus on economic growth and specifically profit as an ultimate aim; yet IE prioritizes biophysical considerations, whereas the SSE places more emphasis on people and power systems, as expected. One insight gleaned through this process is that more attention could be placed on labour conditions, power relations and governance systems in industrial ecology, building on previous and ongoing work in this area.
Four main fields of inquiry emerge: understanding whether 'solidaristic' cooperatives and enterprises could be more receptive to industrial ecology approaches and more adept at embracing resource exchanges such as in industrial symbiosis; ascertaining to what extent companies already involved in symbiotic relations might also embody social and solidarity values, including notions of participative governance, limited profit-making, a focus on employee benefits, among others; considering certain forms of crowdfunding as an opportunity for abating economy-wide rebound effects through more socially just and environmentally sound investments; and finally, the potential for complementary currencies to work towards industrial ecology aims. One of the weaknesses of the social and solidarity economy has been that of scale, as SSE activities tend to take place on a micro-scale, with some notable exceptions. That being said, the SSE is well underway and expanding, in research and practice, presenting interesting synergies with IE and opportunities for further research and action. Bringing together IE and SSE ultimately brings to the fore a discussion around paradigms and associated values, including societal and environmental priorities which are not always aligned – raising questions around what values we wish to put forward in our economy, workplaces and society.