2019 | OriginalPaper | Buchkapitel
The Social Dimension: The Missing Glue of European Integration?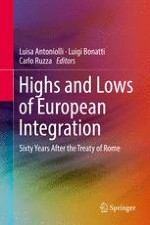 Erstes Kapitel lesen
Autor: Ton Notermans
Abstract
The handling of the euro crisis and the subsequent refugee crisis has sparked a rapid growth of integration-critical parties in virtually all member states. While the popular mobilisation of integration-critical sentiments has diverse roots, a major cause lies in rising social inequalities within and between countries. In an effort to win back popular support for its programme of an ever-closer union, the European Commission, along with the member states, has come to place more emphasis on the social dimension of European integration with the hope of strengthening popular identification with the EU.
However, the road to a socially more active Europe via the development of an activist social policy at EU level is blocked by the traditional determination of the member states to keep the design, management and funding of welfare programmes under their own control, a resolve that, if anything, has been strengthened by the growing electoral popularity of integration-critical movements. Nor is such a road economically necessary. Mounting socio-economic disparities are not primarily the result of globalisation or the primacy of negative integration but of the orientation of the EU's macro-policy regime that has provided for low growth and high unemployment. Accordingly, the currently dominant strategy of improving performance via primarily microeconomic supply-side measures such as flexibilisation of labour markets, improved employability and social investment in education, training and family-friendly policies will also largely fail to produce the hoped-for results. The most promising road to a more socially equitable Europe instead lies in the change in macroeconomic strategy that effectively stimulates private investment. In practice this may call for a more differentiated form of integration that recognises the differential developmental needs as well as social policy preferences of the member states.