19.01.2016 | Ausgabe 2/2016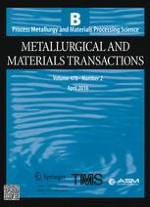 The Solubility of Aluminum in Cryolite-Based Electrolyte-Containing KF
Zeitschrift:
Autoren:

Yu Zhang, Jiangyu Yu, Bingliang Gao, Yibai Liu, Xianwei Hu, Zhongning Shi, Zhaowen Wang
Wichtige Hinweise
Manuscript submitted August 16, 2015.
Abstract
The solubility of aluminum in NaF-AlF3-CaF2-KF-A12O3 electrolyte system at 1253 K (980 °C) has been measured by the analysis of quenched samples saturated with aluminum. The content of the dissolved metal in the quenched melt was determined by collecting the volume of hydrogen gas when a finely crushed sample is treated with HCl. Addition of 0 to 5 pct KF has no obvious effect on the solubility of aluminum in cryolite-based melts with molar ratio of NaF/AlF3 (cryolite ratio) ranging from 2.2 to 3.0. The solubility of aluminum increases from 0.015 to 0.026 wt pct with cryolite ratio increases from 2.2 to 4.0 in the NaF-AlF3-5 wt pct CaF2-3 wt pct A12O3 electrolyte at 1253 K (980 °C). Aluminum solubility was affected by both chemical replacement reaction of Al + 3NaF = AlF3 + 3Na and physical dissolution.