01.09.2018 | Original Article | Ausgabe 18/2018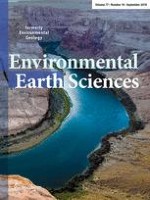 The spatial variability structure of soil attributes using a detailed sampling grid in a typical periglacial area of Maritime Antarctica
Zeitschrift:
Autoren:

A. Thomazini, M. R. Francelino, A. B. Pereira, A. L. Schünemann, E. S. Mendonça, C. E. G. R. Schaefer
Abstract
Large spatial variations on soil attributes and vegetation distribution in terrestrial ecosystems occurs in maritime Antarctica. Guano deposition, organic matter accumulation and vegetation coverage, associated with soil drainage conditions, are the main drivers of soil development, varying considerably in time and space. Yet, the spatial variability of soil attributes remains little documented in this region, being constantly altered due to the intense periglacial processes. The objective of this study was to determine spatial variability structure of a representative ice-free area, to understand how changes on landscape, vegetation coverage and biological activity affect soil attribute distribution, using a detailed grid guaranteeing the recognition/representation of the variability range at Keller Peninsula, King George Island, Maritime Antarctica. A representative heterogeneous area was selected in February 2015, where a large variation on the spatial distribution of vegetation and guano occur, in a typical Antarctic periglacial landscape. A 133-point 50 × 50 m grid with a minimum separation distance of 0.5 m was installed, in which sectors were delimited according to guano influence and vegetation cover. Soil was sampled (0–10 cm) at each point of the grid, to map and model the spatial variability of general soil attributes. Principal component analysis (PCA) was used to select the most important soil attributes in this periglacial landscape. Further, experimental semivariograms were calculated and thematic kriging maps obtained, allowing the visual interpretation of the phenomena. Soil attributes significantly (
p
 < 0.05) varied across the delimited sectors. Soil bases (Ca, Mg, K, Na) and physical soil attributes (sand and silt) were the most important variables selected through PCA. We observed that the spatial variability structure of soil attributes is highly influenced by the heterogeneity of ice-free areas in Maritime Antarctica. In periglacial zones where guano is deposited, soil acidification occurs, resulting in high exchangeable Al contents and potential acidity, associated with elevated amounts of organic matter and phosphorus. In this area, the spatial dependence is stronger. The strength of the spatial dependence rapidly decreases out of the influence of guano deposition, where a more heterogeneous environment is observed. Vegetation coverage also altered the spatial variability structure by stabilizing landscape, avoiding nival erosion and enhancing soil nutrient status. Bare soils reveal a more pronounced skeletal character, with low soil nutrient assembly due to the weak nutrient cycling with a great variability across the landscape. Results reported in this study are expected to represent other similar periglacial landscapes in maritime Antarctica.