2017 | OriginalPaper | Buchkapitel
The STAGE Project: Tailored Cultural Entertainment for Older Adults via Streaming Technology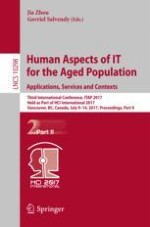 Erstes Kapitel lesen
Autoren: Luigi Biocca, Nicolò Paraciani, Francesca Picenni, Giovanni Caruso, Marco Padula, Riccardo Chiariglione, Agnieszka Kowalska, Monica Florea, Ilias Kapouranis
Abstract
In recent years, Ambient Assisted Living (AAL) solutions for older people have been increasingly focusing on leisure and educational activities, as opposed to healthcare assistance.
In this framework, the European research project STAGE – Streaming of Theatre and Arts for old aGe Entertainment, was recently approved and funded by the Active and Assisted Living - AAL programme, in the context of Call for Proposals 2015.
STAGE aims at developing an easy-to-use ICT platform to deliver cultural and educational content to older people via video streaming technology. This content will be provided through customized interfaces and will include events such as theatre plays, concerts, opera performances and museum exhibits.
In order to accomplish this, it will employ a co-design methodology, involving older users in the design and development of the platform from the beginning of project activities. Users will also test the platform prototype and provide feedback, in order to define a final fully customized version.
The ultimate goal of the project is to provide older people who are interested in culture but find difficulties accessing it, with a facilitated and affordable way to enjoy this type of content.