Erschienen in: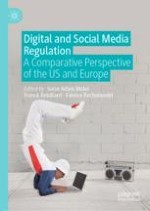 Open Access 2021 | OriginalPaper | Buchkapitel
The Stakes and Threats of the Convergence Between Media and Telecommunication Industries
Abstract
Convergence between media (TV and press industry) and telecoms is growing in the USA and in Europe (especially France). Streaming video services and the use of smartphones to watch TV require efficient connections and explain this growth pattern, despite early failure to establish causality. New business models based on contents and personal data emerge. Companies want to expand their subscriber bases, which questions the economic power on gatekeeping content and Internet access. Regulators should adapt their tools and objectives to new challenges as afforded by convergence.
The original version of this chapter was revised: The chapter has been changed from non-open access to open access and the copyright holder has been updated. The correction to this chapter is available at
https://​doi.​org/​10.​1007/​978-3-030-66759-7_​11
1

Introduction

In many countries, especially the USA, a twofold movement is developing: Media industry consolidation on the one side, and on the other, cross-ownership of electronic media platforms built on convergence of broadcast and broadband media. Telecom operators provide content and, conversely, broadcasters are buying broadband operators. At the same time, traditional TV channels are increasingly delivered via broadband. Giant companies (Alphabet, Facebook, Amazon, Netflix) enter these markets by buying or developing their own channels, or investing in infrastructure (fiber networks, satellites) and content creation. Those changes imply a disruption in standard economic models and a looming shift in economic power. Ownership of property rights on content in order to capture the attention of users is more important than ever. Yet, these same economic models are based on the exploitation of personal data. Monetizing consumers' data allows companies to dominate markets. When this careful arithmetic is played to its conclusion, the market power held by corporate giants strongly incentivizes consolidation and convergence among these corporate giants. This potential market condition requires a strong regulation, which should be updated in order to ensure diversity and independence of content. Further, to assert accessibility to Internet, avoiding the risk of abuse of power of operators acting as gatekeepers (Jensen

2016

).

This paper gives examples of convergence between telecom carriers and media content providers (2). It stresses this hypothesis in order to better understand the wave of mergers and contracts between telecoms and content industries; the essay encapsulates the synergies between telecom carriers and media content providers (3). The wave of convergence raises the question of independency of media, considering independency as a necessary condition for diversity (in opinions, in journalists' profiles, etc.). This paper demands regulators question the relevance of the existing regulatory framework considering new variables, including investment, competition, and Net Neutrality (4).
2

Some Examples of Convergence Between Telecom Carriers and Media Content Providers

Indeed, the cases of convergence between online media and telecommunications are numerous. Some of them failed.

At the beginning of the 2010s, the French media giant company Vivendi specialized in video game publishing, music distribution, satellite distribution, and telecoms. Vivendi then decided to concentrate on contents and to sell its shares in telecom operators (Maroc Telecom in 2013, SFR in 2014, and the Brazilian company GVT in 2015), putting an end to its strategy previously based on convergence. In 2014, Vivendi bought the French national pay-TV channel Canal+, focused on cinema and sport. In 2019, Vivendi bought the French publisher Editis from Spanish owner Planeta in a €900 million deal. This purchase pattern confirms Vivendi's wish to focus on content industries and to put an end to investment in telecoms.

Similar cases exist. During the 2010s, the French telecom operator Orange decided to develop a strategy for contents and services by creating subsidiary companies: Orange Sport, cinema channels, etc. But Orange gave up those investments in order to favor partnerships with Deezer (music) and Dailymotion (videos), which have been more or less abandoned since their cooperative endeavors. Orange still holds Orange Cinéma Séries (OCS), a collective of French television channels devoted to series and cinema, available on satellite, cable, and IPTV. In the former case, convergence was an too-early-too-costly strategy; for Orange, convergence was not abandoned but reshaped more modestly and cautiously. In both situations, companies failed to capitalize on a sustainable industrial strategy.

In a US context, the merger of AOL-Time Warner failed, considered a deep strategic error for both companies. Jeffrey Bewkes, chief executive of Time Warner, describes his company's failure to merge with AOL: "You had a lot of people saying you should've combined a donkey with a rabbit and gotten a flying unicorn" (

New York Times

, October 23, 2016).

However, other cases were more promising. One such case includes Time Warner-AT&T, or countless smaller mergers with less global, monopolistic ramifications between numerous co-operations in the press industry and telecom companies. In the case of the press in France, the three of the four largest telecom operators are integrating into their mobile packages a virtual kiosk, bringing together many titles of press and magazines. SFR (owned by Altice) includes in most of its offers access to more than 80 newspapers and magazines, at a price of €19.99 per month. Bouygues Telecom provides an unlimited press bouquet with more than 1,000 press titles (called "The Kiosk") accessible in a few clicks and even offline on smartphone, tablet, or computer. Orange provides two services: ePresse (more than 300 newspapers and magazines) and Izneo by Fnac (more than 3000 comics), at € 9.99 per month. Contents are accessible via computer, tablet, or smartphone with or without a connection.
3

Synergies Between Telecom Carriers and Media Content Providers. Some Cases

The other impressive case of convergence concerns Sky (the leading pay-TV platform in the UK) and the US cable operator Comcast in September 2018. Comcast bought NBCUniversal in 2009, and, by taking control of the leading European satellite television broadcaster Sky (23 million subscribers in Europe, 29 million customers in the USA), Comcast generated more revenue in Europe, accelerated online video consumption, and expanded its geographic coverage. By growing in size and becoming stronger, Comcast invests in content control and resists competition from Netflix (125 million subscribers) or Amazon.

For media, different factors are at play.

Future growth for telecoms depends from an increase in supply and new services in an era of strong demand for media content and digitized entertainment. Consumers buy full packages including TV programs, press, movies, and other media. For telecoms, content becomes the new field of competition, and convergence with media content providers allows telecom carriers to offer connectivity and premium content simultaneously.

Telecom companies face a threefold challenge with convergence. First, they try to reinforce their position in a context of heightened economic concentration. For example, in the USA the merger between T-Mobile and Sprint led the country to decrease from 4 to 3 national mobile network operators. In France, there remain 4 main operators, who compete for more concentration.

The second challenge concerns revenues: Depending on their situation, services can enable operators to generate additional ARPU (Average Revenue Per User). Diversifying services and content attract new subscribers and generate more revenue. To boot, it secures customer loyalty. New subscribers and operators try to increase switching costs in such a way that churn declines.

For example, Altice bought football rights in order to "capture" several hundred thousand subscribers. Similarly, in Spain, Telefonica obtained the rights to broadcast the Champions League and Europa League.
4

Regulation and Convergence

Regulation covers four concerns: investment, competition, net neutrality, and diversity in opinions.

No operator can afford not to have a content strategy, but deals between contents and telecoms deserve a close look from regulators. First, such deals can create barriers to new entrants in both industries. Second, convergence may imply a loss in independency for press and TV, because their economic future relies on the distribution of their content by operators. Moreover, there exists a threat for quality of the service: a lower level of competition may lead to a decrease in investment and innovation and a drop in quality. For video (streamed or downloaded video), operators should avoid excess latency and delays in service through technological innovation. Users expect omnichannel experience: content delivery in multiple formats, across multiple channels to roaming users on any device. Concentration may reduce quality for customers. Therefore, regulators should pay attention to the possibility to change their Internet provider.

The playing field is complicated further by the power of platforms like Netflix. For example, in 2018, Comcast tried to bid for part of 21st Century Fox.

2

Disney acquired the company in 2019. With Fox, Disney wanted to counter Netflix. Regulation must take into account this dimension: media concentration becomes unavoidable facing network effects that mean that most powerful platforms may grow without any limit.
The Existing Regulatory Framework
Regulation combines multiple dimensions. In France, three independent agencies are respectively specialized in competition and telecom regulation: Autorité de la concurrence, Autorité de régulation des communications électroniques et des Postes (ARCEP), CSA (Conseil Supérieur de l'Audiovisuel). In the USA, two agencies are in charge: the Federal Communications Commission (FCC) regulates interstate and international communications by radio, television, wire, satellite, and cable in all 50 states, the District of Columbia, and US territories. Also, the FTC's Bureau of Competition enforces the USA's antitrust laws. In the UK, both regulators work in the same agency, OFCOM, which regulates communications services (broadband, home phone and mobile services, TV, radio, and video-on-demand sectors, universal postal service, and airwaves over which wireless devices operate).
Which Tools? Are Existing Regulations Relevant?
When disruptive innovation occurs in regulated industries, there is a need for new tools. Cortez (
2014
, p. 176) emphasizes a need to disrupt regulation:
The innovation might puncture prevailing regulatory orthodoxies, forcing regulators to reorient their postures or even rethink their underlying statutory authority. The quintessential example is the Internet, which rumpled not just one, but several regulatory frameworks, including those of the Federal Communications Commission ("FCC"), the Federal Trade Commission ("FTC"), and the Food and Drug Administration ("FDA").
Antitrust in the age of telecommunication and media convergence have twofold dimensions: discrimination against rival networks and discriminatory behaviors against users, which conflicts with net neutrality principles.
Discrimination Against Rival Networks
In the case of Comcast-NBC, the FCC imposed a series of conditions on the merger in order to prevent Comcast/NBCUniversal from using its power in order to squeeze out cable channels or video services that competed with NBC's channels or Comcast's own video streaming service. But the conditions didn't work. There were complaints about unfair treatment of rival services and channels. For example, Bloomberg complained that Comcast violated a condition requiring that it group news channels together in "neighborhoods" on its channel grid. Further, complaints about unfair treatment by Comcast of online video distributors such as Netflix and Amazon Prime were submitted to arbitration.
Discriminatory Behavior
In the case of AT&T-Time Warner, the government alleged that a combined AT&T-Time Warner would have too much leverage in negotiations with television distributors. This market power would hurt competitors, harm innovation, and could lead to increased cable prices for consumers. AT&T would be in a situation where the company could favor its own users. Moreover, it would be possible to restrict choice through different means: access to studio content (especially HBO), network providers control access to the pricing of broadband facilities, or incentive to favor network-owned content thereby placing unaffiliated content providers at a competitive disadvantage.
This possibility raises the question of net neutrality. Net neutrality implies that Internet service providers (ISPs) should treat all data that travel over their networks fairly, without discrimination in favor of particular apps, sites, or services. Net neutrality was very controversial in the USA, yet enforced in Europe. Zero-rating, however, is problematic for fairly-applied Net Neutrality. Zero-rating designates the behavior of Internet service providers who apply a zero price to the data traffic associated with a particular application. For example, when an Internet access service does not charge a user for the data used to access a specific music streaming application. Zero-rating opens an avenue for discrimination.
Data, Diversity, and the Future of Press: A Failure of Regulation?
If access to press relies on contracts with telecom operators, then, for consumers, access to content may depend on subscriptions to an Internet provider. This situation raises two inquiries. First, on the supply side, will innovators be marginalized while press companies lose direct access to data on audiences? Second, how gravely is opinion diversity threatened when a deal gives a huge corporation the opportunity to influence news reporting? ISPs then control the valve of information, meaning they may favor news linked to their own interest. Then, adding a no-price package of newspapers or TV access generates a kind of depreciation of the value of cultural goods and services. Finally, this low price or free of charge access to culture and information raises the question of covering the production costs of culture, which risks a decrease in quality and in the diversity of opinions.
5

Concluding Remarks

The questions surrounding the drop in value of content sit atop of the agenda of media companies. Thus, a fork in the road emerges—the digital business environment may evolve toward an open or closed system. In an open system, networks are interconnected. Platforms and devices are characterized by interoperability and common standards. Convergence does not prevent the existence of a constellation of media players. Instead, a regulatory environment supports openness. Conversely, in proprietary networks, platforms and devices are characterized by closed system. Interoperability is limited within silos. It is especially the case when there is a strong level of vertical integration between content, services, and amenities. Convergence reinforces closed systems in which customers are captured and diversity of content is at risk.

The spread of the new coronavirus (COVID-19) in early 2020 increases uncertainty for media, leading to higher customer dependency on the quality of their Internet access. This has led to an increase in media consumption, but, as Gerard Pogorel and Augusto Prera underline (

2020

), with lower for-free TV and pay TV (less ads because of the stopping of the economic activity and sport activity), and an increase in video streaming revenues, especially for magnates such as Netflix and Disney+. Some sectors of economic activity and education continue in spite of the pandemic, thanks to fixed and wireless access to Internet. But the monetization of the access is difficult and mergers with media give market power to integrated companies. This is a key element in order to understand battles where the right to buy catalogues and an overabundance of content is at stake.

Notes

2.

21st Century Fox, owned by Rupert Murdoch, included the 20th Century Fox, Fox Searchlight, Fox 2000, Blue Sky Animation film studios, The Fox News, Fox Sports Stations, FX Cable Stations, and National Geographic TV holdings and a 30% share of Hulu streaming (and other international holdings).
Open Access
This chapter is licensed under the terms of the Creative Commons Attribution 4.0 International License (
http://​creativecommons.​org/​licenses/​by/​4.​0/​
), which permits use, sharing, adaptation, distribution and reproduction in any medium or format, as long as you give appropriate credit to the original author(s) and the source, provide a link to the Creative Commons license and indicate if changes were made.
The images or other third party material in this chapter are included in the chapter's Creative Commons license, unless indicated otherwise in a credit line to the material. If material is not included in the chapter's Creative Commons license and your intended use is not permitted by statutory regulation or exceeds the permitted use, you will need to obtain permission directly from the copyright holder.