2019 | OriginalPaper | Buchkapitel
12. The Status of Data Journalism in Iranian Media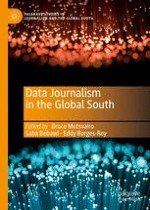 Erstes Kapitel lesen
Autor: Maryam Salimi
Abstract
The purpose of this research is to investigate the status of data journalism in Iran's media, in which library, content analysis and interviewing methods have been used and the sampling method has also been widely available. In this chapter, while reviewing the history of infographics and its status in the Iranian media, as well as the analysis of theses defended in this field, the position of infographics and data journalism in Iran will be studied and suggestions will be made for their development.
Data journalism is a type of journalism that is developing despite the various challenges in Iran, and its further development requires more support from the government and governmental organizations, providing information and data through the system of free access to information (
foia.​iran.​gov.​ir
) and the creation of databases and more freedom in using data and information, more interaction of media with data analysis companies, more media directors' attention to the field of data journalism and investment in this field, the presence of more data analysts in the media and public relations, mastering of data extraction software and so on.
The volume and number of infographic works, as well as the theses and books produced in this field, and the tendency of various organizations, especially governmental organizations, are indicative of the increasing spread of infographics in Iran.
Although infographics has an established background in Iran and its print type has a history of more than 140 years, its use in modern form dates back to about 15 years ago.
It is time that the Iranian media, with more attention to data journalism, cross the level of small data, have the ability to use and have access to different types of data, especially medium data and Big data, and provide their audience with more hidden and visible information.