Erschienen in: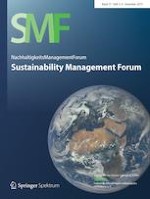 27.03.2020 | Originalbeitrag / Original article
The sustainable use of wood as a regional resource—an ecological assessment of common and new processing technologies for wood poles
Erschienen in: Sustainability Nexus Forum | Ausgabe 3-4/2019
Einloggen
Abstract
Wood poles, whose load carrying capacity has been used in power and communication networks and street lighting, have a high relevance as carbon storage due to their long-term utilization and their global application. To increase the climate mitigation potential of wood poles by widening their scope of application in the construction sector and thereby substituting energy-intensive construction materials, the wood poles' inherent properties have to be technically enhanced. New wood processing technologies such as molded wood play a decisive role here, and are also considered more energy and resource efficient than traditional wood processing technologies. This study investigates the environmental performance of molded wood poles and classic roundwood poles by means of three scientific approaches: life cycle assessment, forest ecosystem assessment, and eco-design evaluation of different wood pole concepts. Moreover, their ecological competitiveness is compared to steel and concrete, the prevailing construction materials of today. The findings show that, when compared to other construction materials, wood poles in general and molded wood poles in particular are competitive with respect to their mitigation potential for carbon dioxide emissions and fossil fuel consumption. With respect to resource efficiency, molded wood poles outperform other wood pole concepts as no residues arise from the production process and additional portions of the tree and various other tree species including broad-leaf trees can be used. The procurement of wood from domestic resources instead of imports is recommended when taking into account the shortcomings found in the forest management of the leading wood exporting countries.