2020 | OriginalPaper | Buchkapitel
4. The Ten Enablers Model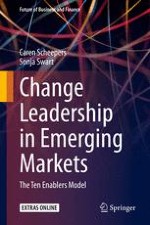 Erstes Kapitel lesen
Autoren: Caren Brenda Scheepers, Sonja Swart
Abstract
In this chapter, we offer the explanation of The Ten Enablers Model. The illustration of the ten enablers serves as a guide to empower change leaders to approach the process of change in a systematic manner. We start with the foundation of
Ethos (Enabler 1)
, which focuses on the common good and not the enrichment of a selected few individuals or groups.
Ego Mastery (Enabler 2)
is essential for change leaders to remain centred, balanced and energised throughout the marathon of implementing change processes.
Enablers 3 and 4, Explore and Eureka
are focused on the context or external environment. Effective change leadership thus entails analysing external variables, such as the Political, Economic, Technological, Legislation and Environmental dynamics in the context. A systemic view of the organisation within its particular context serves the change leader in identifying past, present and future trends with hindsight, insight and foresight as aspects of contextual intelligence.
This analysis leads to identifying opportunities—a Eureka! moment, which represents a mind shift or insight into what is required for the organisation to flourish in its environment. The insight is
Envisioned (Enabler 5)
as an ideal future that represents the business case for the change.
Engagement (Enabler 6)
of stakeholders to share in the vision is essential to build commitment, prior to
Embarking (Enabler 7)
on the change. Planning the change process in detail with its critical path; as well as roles and responsibilities; with milestones and delivery dates are crucial in this phase to enable the
Execution (Enabler 8)
of actions. This enabler represents the typical management cycle of setting goals and monitoring goal achievement. The next enabler is
Evaluating (Enabler 9)
the progress of the change process to capture lessons learned and prevent the same mistakes in future change processes. Finally, change leaders have to
Exit (Enabler 10)
and allow their successors to lead.