14.07.2016 | Ausgabe 1/2017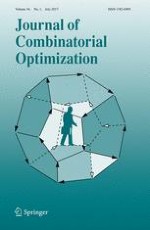 The thickness of the complete multipartite graphs and the join of graphs
Zeitschrift:
Autoren:

Yichao Chen, Yan Yang
Abstract
The thickness of a graph is the minimum number of planar spanning subgraphs into which the graph can be decomposed. It is known for relatively few classes of graphs, compared to other topological invariants, e.g., genus and crossing number. For the complete bipartite graphs, Beineke et al. (Proc Camb Philos Soc 60:1–5,
1964
) gave the answer for most graphs in this family in 1964. In this paper, we derive formulas and bounds for the thickness of some complete
k
-partite graphs. And some properties for the thickness for the join of two graphs are also obtained.