2018 | OriginalPaper | Buchkapitel
The Transition from Brownian Motion to Boom-and-Bust Dynamics in Financial and Economic Systems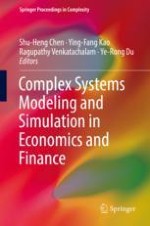 Erstes Kapitel lesen
Autor: Harbir Lamba
Abstract
Quasi-equilibrium models for aggregate or emergent variables over long periods of time are widely used throughout finance and economics. The validity of such models depends crucially upon assuming that the system participants act both independently and without memory. However important real-world effects such as herding, imitation, perverse incentives, and many of the key findings of behavioral economics violate one or both of these key assumptions.
We present a very simple, yet realistic, agent-based modeling framework that is capable of simultaneously incorporating many of these effects. In this paper we use such a model in the context of a financial market to demonstrate that herding can cause a transition to multi-year boom-and-bust dynamics at levels far below a plausible estimate of the herding strength in actual financial markets. In other words, the stability of the standard (Brownian motion) equilibrium solution badly fails a "stress test" in the presence of a realistic weakening of the underlying modeling assumptions.
The model contains a small number of fundamental parameters that can be easily estimated and require no fine-tuning. It also gives rise to a novel stochastic particle system with switching and re-injection that is of independent mathematical interest and may also be applicable to other areas of social dynamics.