2018 | OriginalPaper | Buchkapitel
2. The Trouble with Architecture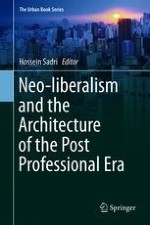 Erstes Kapitel lesen
Autor: Graeme Bristol
Abstract
Architecture is in trouble. It is always in trouble, and architects have been whining about it long before they formed the Architects' Club in 1791. But this is not just whining about nothing. There is some validity to the precarious nature of the profession. Yet, despite that precariousness, architecture has always been aligned in some way with power, whether it is building houses for God as a client (or at least His high priests) or, more currently, building cathedrals to Mammon and other forms of conspicuous consumption. The opening question then is: 'Why has so little changed?' Why have architects not solved this 200-year-old problem of the profession? There are historical answers, and there are more contemporary answers to these questions. This paper is intended to identify these problems more clearly by addressing three broad areas of the profession:
Its history—the problems of the profession have deep roots going back to the shift from the Gothic Master Builder to Alberti and the 'Renaissance Man'.

Professional education—it has been said that an architecture degree provides the graduate with the most well-rounded education possible. A myth? There is also a troubling chasm between the school training future architects and the profession which has to take them in.

Globalization—between WTO and GATS, APEC negotiations on the trade in architectural services, and the newly proposed TPP agreement, there are a number of problems with architecture, tied as it is to culture, freely crossing borders to practice architecture anywhere in the world.
Having identified some of the core problems, the real issue is how the profession can extricate itself from this quicksand. The argument here is that the profession needs to clarify its responsibilities to society. It has to understand that while a firm must survive to do work, an architectural firm is not just a business, it is a profession. This difference is founded on ethics—unfortunately very thin gruel in the profession. The weakness and lack of coherent principles informing professional codes of ethics lead to some very compromising decisions on the part of practicing professionals. I submit that the founding principles should be based on human rights, beginning with the 1948 Universal Declaration of Human Rights and expanding from that. A rights-based approach (RBA) to development can provide the practitioner with a means to better understand professional obligations to society. The professional using this approach was once aptly described by one of its practitioners, the late Sam Mockbee, as 'the Citizen Architect'.