04.12.2019 | Ausgabe 4/2020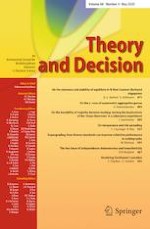 The two faces of independence: betweenness and homotheticity
Zeitschrift:
Autor:

Daniel R. Burghart
Wichtige Hinweise
Electronic supplementary material
I would like to acknowledge valuable feedback from Charles Efferson, Thomas Epper, Ernst Fehr, Helga Fehr-Duda, Jan Heufer, Holger Herz, John Hey, Michael Powell, Collin Raymond, Uzi Segal, Mike Visser, Roberto Weber, Tony Williams, and participants in the micro workshops at University of Zurich and RUD 2015 at Bocconi University, Milan. This paper has been dramatically improved by extensive feedback provided by Peter Wakker, anonymous referees, and the editor at this journal. This work was supported by a grant from the European Research Council (#295642).
Publisher's Note
Springer Nature remains neutral with regard to jurisdictional claims in published maps and institutional affiliations.
Abstract
This paper shows that expected utility belongs to the intersection of models satisfying betweenness and a homotheticity condition for risky choice. Betweenness models can accommodate variable risk attitudes, originally highlighted by the Allais paradox, by restricting indifference curves to be linear while allowing non-parallelism. Homotheticity, in contrast, restricts indifference curves to be parallel while permitting non-linearities, such as those highlighted by inverse-S probability weighting. Data from an experiment indicate that approximately 2/3s of participants satisfied homotheticity. Of this group, about half satisfied the expected utility hypothesis. The other half violated expected utility and therefore betweenness. These results indicate that homothetic preferences, and in particular those violating betweenness, can be empirically relevant for decision making under risk.