11.07.2016 | Ausgabe 3/2017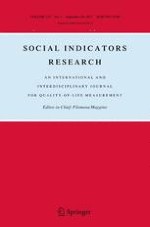 The Use of Common Area
k

-Sample Test in Evaluating Targeting Methodologies: An Application to the Case of Egypt
Zeitschrift:
Autoren:

Sahar El-Sheneity, May Gadallah
Wichtige Hinweise
This work is based on data collected under the auspices of the Conditional Cash Transfers (CCT) Project of the Egyptian Ministry of Social Affairs (MoSA) (previously Ministry of Social Solidarity) and the Social Research Center (SRC) at the American University in Cairo (AUC). The Government of Egypt financed the project implementation, personnel and the transfers made to families. An earlier version of this research focusing on evaluating the CCT model was funded by "The Pathways of Women's Empowerment RPC", Ford Foundation, UNICEF and UNDP.
Abstract
This research utilizes a measure for evaluating targeting methodologies that is based on the common area under the kernel densities of per capita expenditure of different poverty groups. The proposed measure is incorporated with misclassification errors. It also compares some variables commonly used in targeting from a multidimensional perspective to show their overlap where standard statistical tests show them as significantly different. Such an integrated approach helps identify the complexity of model building thus providing a new tool in guiding social policies focusing on poverty alleviation. To demonstrate the added-value of the suggested measure, it is applied to a case study involving different methodologies to target poorest households in regions characterized with high prevalence of poverty in rural Upper Egypt. Results show that trials to classify the surveyed households using different models are faced with large overlap according to the proposed measure even when errors of under-coverage and/or leakage drop. Models built on the national-level of poor areas or on regional-level do not perform well on the level of these poor villages where geographical targeting would have been optimal.