01.03.2015 | Ausgabe 1/2015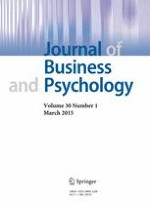 The Value of a Smile: Does Emotional Performance Matter More in Familiar or Unfamiliar Exchanges?
Zeitschrift:
Autoren:

Allison S. Gabriel, Jennifer D. Acosta, Alicia A. Grandey
Wichtige Hinweise
Correspondence should be directed to Allison S. Gabriel (agabriel2@vcu.edu). A previous version of this paper was presented at the 25th annual conference of the Society for Industrial and Organizational Psychology. We thank James Diefendorff, Andrea Snell, Markus Groth, and two anonymous reviewers for their helpful feedback, as well as Dr. Grandey's students in the Fall 2007 and 2008 PSY083s seminar at Penn State University for their role in data collection.
Abstract
Purpose
The purpose was to understand how service familiarity (i.e., the familiarity of the customer with the employee and service provided) operates as a boundary condition for the impact of employee positive emotional displays on service performance.
Design/Methodology/Approach
In Study 1, we assessed whether service familiarity (as rated by employees) moderated the relationship of employee-reported positive emotional displays and coworker ratings of service performance. In Study 2, through observed employee–customer exchanges, we tested whether customer-reported familiarity with the service context moderated the relationship between third-party-observed employee positive emotional displays and customer ratings of transaction satisfaction and employee friendliness.
Findings
Employee positive emotional displays had the strongest influence on evaluations of performance under
low
familiarity contexts. Thus, positive emotional displays served as a signal of good performance when there was limited preexisting information about the employee.
Implications
Service performance evaluations may be less influenced by employee positive emotional displays when the customer has a familiar relationship, suggesting that such displays from the employee are not always necessary. However, for encounters, employee positive emotional displays are more critical for signaling high quality service performance.
Originality/Value
This combination of studies is among the first to isolate the influence of service familiarity at two different levels of conceptualization and measurement using multi-source ratings of service performance.