2017 | OriginalPaper | Buchkapitel
3. The Value Relevance of the Variables Earnings and Book Value of Equity for Valuation Purposes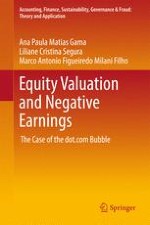 Erstes Kapitel lesen
Autoren: Ana Paula Matias Gama, Liliane Cristina Segura, Marco Antonio Figueiredo Milani Filho
Verlag: Springer Singapore
Abstract
Since the seminal work of Ball and Brown (J Acc Res 6(2):159–1478,
1968)
and Beaver (J Acc Res 6:179–192,
1968
), extensive literature has examined the relationship between the prices of securities and (positive) results reported by companies. However, analysis of price/losses is scarce, with contradictory results obtained so far. Ratio (price versus losses) gained relevance in 1990s, with well-documented results in new economy companies (Shiller in Irrational exuberance. Princeton University Press, Princeton,
2000
). It is for this group of companies that the phenomenon "positive valuation losses" assumes its great of significance, although it was not an entirely new phenomenon. For example, Amir and Lev (J Acc Econ 22(1–3):3–30,
1996
) documented this relationship in the mobile phone sector, also with reference to the US market, in the 1980s.