2020 | OriginalPaper | Buchkapitel
2. The Value Triangle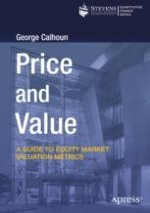 Erstes Kapitel lesen
Autor: George Calhoun
Verlag: Apress
Abstract
As of 2018,
the Ford Motor Company
operated in dozens of countries, with around 75 production facilities on five continents and tens of thousands of dealers. It employed over 166,000 people to design, produce, and sell hundreds of different products and services, to millions of customers, generating a continuous stream of cash flows, profits, and dividends and providing the fuel for innovation and reinvestment to allow for future cash flows to continue and hopefully to grow. The company buys, sells, invests, divests, and distributes various assets continuously, transacting in many currencies and under many systems of commercial and financial regulation around the world. Its fortunes are constantly in flux, depending on its strategic choices (and those of its competitors) and on the changes in its economic environment (trends in regulation, business cycles, credit conditions).
Ford's
value is not just a function of the present moment; it incorporates a broad horizon of expectations regarding the future performance of the company and future states of its environment.