2016 | OriginalPaper | Buchkapitel
The Vegetation Series of Italy and Applications in Biodiversity Conservation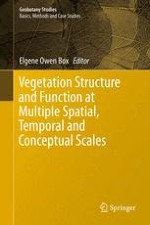 Erstes Kapitel lesen
Autor: Carlo Blasi
Abstract
The
Series of the Vegetation of Italy
represents the synthesis of a national project that produced the first detailed document on the potential heterogeneity of Italian vegetation. The map and regional monographs of the
Series of the Vegetation of Italy
are of fundamental importance for understanding the natural capital of the entire country and are also useful for understanding and assessing environmental heterogeneity. This information represents the current state of knowledge on the Italian vegetation, in terms of diversity and spatial distribution.
This is an extraordinary collection of useful data in different areas of interest, such as: taxonomy, syntaxonomy, and syndynamics; analysis and monitoring of biodiversity for environmental planning and management; analysis of gaps in protected areas; definition and assessment of ecological networks and ecoregions; and ecological analysis of the landscape.
Currently this
Map
represents the essential reference for the construction of the Map of Ecosystems of Italy and of the Synthetic Map of the potential vegetation, both at a scale of 1:100,000.
Consistently with the adopted scale, the
Map
describes territorial areas (environmental units) characterized by the same type of vegetation series and by the same potential natural vegetation, defined as "
the vegetation a given site can host under the current climatic and pedological conditions, in absence of any disturbance
" [Tüxen (Angewandte Pflanzensoziol 13:5–42, 1956)]. Therefore, the
Map
highlights the potential heterogeneity of the Italian vegetation, and the monograph at regional scale analyzes the actual vegetation, describing the individual stages of each vegetation series.