2006 | OriginalPaper | Buchkapitel
The Wave Propagation in a Vertically Inhomogeneou Soil with a Random Dynamic Shear Modulus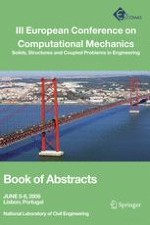 Erstes Kapitel lesen
Autoren: Mattias Schevenels, Geert Lombaert, Geert Degrande, Daan Degrauwe, Brecht Schoors
Verlag: Springer Netherlands
Vibrations induced by road and rail traffic are a common source of discomfort to people. Numerical models have been developed for the prediction of traffic induced vibrations in the free field or in the built environment. These models consist of a finite element formulation for the vehicles and the buildings and a boundary element formulation that accounts for the wave propagation in the soil. The latter is based on the Green's functions of a horizontally layered halfspace. The experimental validation of these models reveals a discrepancy between the predicted and measured response in the higher frequency range. Given the crucial role of the Green's functions in the prediction model, the dynamic soil characteristics governing these functions are a possible source of the discrepancy. Common techniques for the in-situ measurement of the dynamic soil characteristics such as the spectral analysis of surface waves (SASW) test and the seismic cone penetration test (SCPT) are based on local averages of the soil characteristics and have a limited resolution. The small scale variations of the soil characteristics are not revealed.
In this paper, the influence of the small scale variations of the dynamic shear modulus on the Green's functions of a vertically inhomogeneous soil is studied. A probabilistic approach is followed where the mean soil is modelled using the results of the aforementioned measurement techniques. Superimposed on the mean profile is a zero mean random process that represents the small scale variations of the dynamic shear modulus. This process is characterized by a marginal probability density function and a correlation function, estimated by means of a cone penetration test (CPT). The resolution of the CPT test is high as compared to the SASW and the SCPT tests. The non-Gaussian random process is discretized by means of a Hermite polynomial expansion and a Karhunen-Loeve decomposition [
1
]. The methodology of the stochastic finite element method [
2
] is applied to a hybrid thin layer - direct stiffness formulation [
3
] in order to assemble the stochastic system equations. These are solved by means of a Monte Carlo simulation to obtain the stochastic Green's functions.
The results of the simulation are in good correspondence with the discrepancy observed in the validation of the deterministic vibration prediction models. In the low frequency range, the small scale variations of the dynamic shear modulus are not resolved by the waves and all realizations of the stochastic Green's functions tend to the Green's functions of the mean soil. In the high frequency range, the waves do resolve the small scale variations. As a result, phase shifts and variations of the amplitude occur between different realizations of the stochastic Green's functions.