2014 | OriginalPaper | Buchkapitel
6. The Wiener–Hopf Factorisation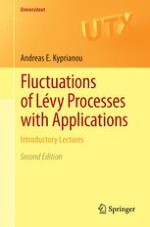 Erstes Kapitel lesen
Autor: Andreas E. Kyprianou
Verlag: Springer Berlin Heidelberg
Abstract
For a general Lévy process, it is possible to decompose its path into "excursions from the running maximum". Conceptually, this decomposition is
a priori
somewhat tricky as, in principle, a general Lévy process may exhibit an infinite number of excursions from its maximum over any finite period of time. Nonetheless, when considered in the right mathematical framework, excursions from the maximum can be given a sensible definition in terms of a Poisson random measure. The theory of excursions presents one of the more mathematically challenging aspects of the theory of Lévy processes. This means that in order to keep to the level outlined in the preface of this text, there will be a number of proofs in the forthcoming sections which are excluded or discussed only at an intuitive level.
Within a very broad spectrum of probabilistic literature,
the Wiener–Hopf factorisation
may be found as a common reference to a multitude of statements concerning the distributional decomposition of the path of any Lévy process, when sampled at an independent and exponentially distributed time, in terms of its excursions from the maximum. The collection of conclusions which fall under the umbrella of the Wiener–Hopf factorisation turns out to provide a robust tool with which one may analyse a number of problems concerning the fluctuations of Lévy processes, in particular, problems which have relevance to the applications we shall consider in later chapters. This chapter concludes with some special classes of Lévy processes for which the Wiener–Hopf factorisation may be exemplified in more detail.