01.01.2015 | Original Paper | Ausgabe 2/2015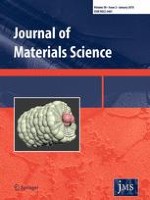 Theoretical calculations of structural, electronic, optical, elastic, and thermal properties of YX3 (
X

= In, Sn, Tl, and Pb) compounds based on density functional theory
Zeitschrift:
Autoren:

Jisha Annie Abraham, Gitanjali Pagare, Sunil Singh Chouhan, Sankar P. Sanyal
Abstract
The structural, electronic, optical, elastic, mechanical, and thermal properties of the isostructural and isoelectronic nonmagnetic YX
3
(
X
= In, Sn, Tl, and Pb) compounds, which crystallize in AuCu
3
-type structure have been studied using the full potential linearized augmented plane wave (FP-LAPW) method. The calculations are carried out within the PBE-GGA, WC-GGA, and PBE-sol GGA for the exchange correlation potential. The calculated ground state properties such as lattice constant (a
0
), bulk modulus (B), and its pressure derivative (B′) are in good agreement with the experimental and other available theoretical results. All the compounds are found to be ductile in nature in accordance with Pugh's criteria. The computed electronic band structures as well as density of states show that these compounds are metallic with sturdy hybridization near the Fermi level. The bonding features of these compounds are analyzed using the electronic charge density plots in the (100) crystallographic plane and their analysis revealed that the chemical bond between Y and X is mainly ionic along with weak covalent bonding. The Fermi surfaces for these compounds at ambient pressure are also studied. The linear optical properties of these compounds are also studied at the ambient conditions. The variations of elastic constants, elastic moduli, and Debye temperatures of these compounds as a function of pressure are also reported.