2020 | OriginalPaper | Buchkapitel
9. Theorising from Case Studies: Towards a Pluralist Future for International Business Research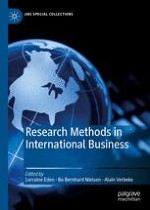 Erstes Kapitel lesen
Autoren: Catherine Welch, Rebecca Piekkari, Emmanuella Plakoyiannaki, Eriikka Paavilainen-Mäntymäki
Abstract
The literature on case studies, both in the field of international business (IB) and in the social sciences more generally, has tended to focus on the methods of data production and analysis suited to this research strategy. In contrast, in this paper we investigate methods of theorising from case studies. We seek to understand how case researchers theorise, and how future IB research might utilise case studies for theorising. By means of a qualitative content analysis of case studies published in
Journal of International Business Studies, Academy of Management Journal
and
Journal of Management Studies,
we construct a typology of theorising from case studies. Two dimensions of the case study, namely causal explanation and contextualisation, form the basis for our typology. We distinguish four methods of theorising – inductive theory-building, interpretive sensemaking, natural experiment and contextualised explanation – only the first of which has been widely used in
JIBS
in the period that we investigate. On the basis of our own qualitative analysis, we show the limitations of inductive theory-building, and argue that greater utilisation of the other methods of theorising would enhance the case study's explanatory power and potential for contextualisation. We argue for a more pluralist future for IB research.