01.01.2014 | Original Paper | Ausgabe 1/2014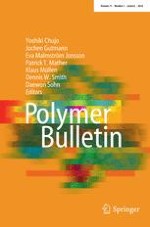 Thermal and mechanical stabilities of composite films from thiadiazol bearing poly(amide-thioester-imide) and multiwall carbon nanotubes by solution compounding
Zeitschrift:
Autoren:

Shadpour Mallakpour, Amin Zadehnazari
Abstract
An amino acid containing poly(amide-thioester-imide) (PATEI) possessing a conjugated thiadiazol ring was shown to be effective for dispersing multiwall carbon nanotubes (MWCNTs) in
N
,
N
′-dimethylacetamide. Through casting of these dispersions, MWCNT/PATEI composite films were successfully fabricated on substrates and showed no signs of macroscopic aggregation. To increase the compatibility between PATEI matrix and MWCNTs, carboxyl-functionalized MWCNTs (f-MWCNTs) were used in this study. The f-MWCNTs were dispersed homogeneously in the PATEI matrix while the structure of the polymer and the MWCNTs structure were stable in the preparation process as revealed by transmission electron microscopy. Tensile tests and thermal analysis were carried out on free-standing composite films for different MWCNT loading levels. Results showed that overall mechanical and thermal properties of the composites were greatly improved as compared with the neat PATEI film. Fourier transform infrared spectroscopy, powder X-ray diffraction, and field emission electron microscopy were also used to evaluate the MWCNT/PATEI composite system.