01.12.2015 | Ausgabe 2/2016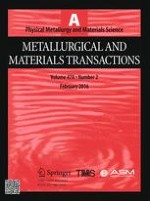 Thermal Conductivity Changes in Titanium-Graphene Composite upon Annealing
Zeitschrift:
Autor:

Kasichainula Jagannadham
Wichtige Hinweise
Manuscript submitted August 27, 2015.
Abstract
Ti-graphene composite films were prepared on polished Ti substrates by deposition of graphene platelets from suspension followed by deposition of Ti by magnetron sputtering. The films were annealed at different temperatures up to 1073 K (800 °C) and different time periods in argon atmosphere. The annealed films were characterized by X-ray diffraction for phase identification, scanning electron microscopy for microstructure, energy-dispersive spectrometry for chemical analysis, atomic force microscopy for surface roughness, and transient thermoreflectance for thermal conductivity and interface thermal conductance. The results showed that the interface between the composite film and Ti substrate remained continuous with the absence of voids. Oxygen concentration in the composite films has increased for higher temperature and time of annealing. TiO2 and TiC phases are formed only in the film annealed at 1073 K (800 °C). The thermal conductivity of the composite film decreased with increasing oxygen concentration. The effective thermal conductance of the film annealed at 1073 K (800 °C) was significantly lower. The interface thermal conductance between the composite film and the Ti substrate is also reduced for higher oxygen concentration. Formation of microscopic TiO2 phase bound by interface boundaries and oxygen incorporation is considered responsible for the lower thermal conductance of the Ti-graphene composite annealed at 1073 K (800 °C).