01.06.2011 | Original Paper | Ausgabe 1/2011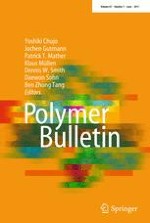 Thermal decomposition of 3,3,6,6,9,9-hexaethyl-1,2,4,5,7,8-hexaoxacyclononane in solution and its use in methyl methacrylate polymerization
Zeitschrift:
Autoren:

Gastón P. Barreto, Gladys N. Eyler
Abstract
The kinetics of the thermal decomposition reaction of diethylketone triperoxide (3,3,6,6,9,9-hexaethyl-1,2,4,5,7,8-hexaoxacyclononane, DEKTP) in ethylbenzene solution were studied in the temperature range of 120.0–150.0 °C and at an initial concentration range of 0.01–0.10 M. This peroxide was used as a new initiator in methyl methacrylate (MMA) polymerization process at high temperatures (110.0–140.0 °C) in ethylbenzene solution. The effects of initiator concentration and reaction temperature on the polymerization rate were investigated in detail. Thus, activation parameters of the solution polymerization process (Δ
E
d
* = 83.3 kJ mol
−1
and Δ
E
p
* − Δ
E
t
*/2 = 54.0 kJ mol
−1
) will be obtained. DEKTP can effectively act as initiator in MMA polymerization and its performance is similar to that presented by a multifunctional initiator resulting in high-molecular weight polymethylmethacrylate with a high reaction rate.