01.08.2014 | Machine Tool | Ausgabe 4/2014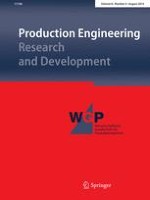 Thermal deformations of cutting tools: measurement and numerical simulation
Zeitschrift:
Autoren:

Ulrich Semmler, Michael Bräunig, Welf-Guntram Drossel, Gerhard Schmidt, Volker Wittstock
Wichtige Hinweise
The topic is part of the Collaborative Research Centre funded by the German Research Association DFG focusing on thermo-energetic design of machine tools.
Abstract
Challenges for machining include greater and greater material removal rates coupled with an increase in the use of difficult to machine materials, as well as environmental-friendly dry or minimum quantity lubrication machining, small manufacturing batches and frequently changed manufacturing orders. These trends are accompanied by high temperatures in the machining process and large, variable heat flows causing thermo-elastic displacements of the tool, the workpiece and the clamping devices. Although the displacements are small, in the range of a few micrometers, they have assumed more and more importance because of growing requirements for manufacturing accuracy. Thermo-elastic displacements of the tool due to heat flow during machining are investigated and analysed in this paper. Temperatures and displacements are measured on a test bed equipped with measuring instruments. The identification of the thermal boundary and contact conditions is supported by finite element models. Knowledge of the heat flows resulting from the machining process is a prerequisite for control of and compensation for displacements. Since these heat flows either cannot be measured or can only be measured with enormous effort, heat flows are determined by means of numerical simulation of the machining process itself. This strategy has been previously used as a systematic approach for turning in orthogonal cutting conditions. However, further investigations are needed for oblique turning conditions, milling and drilling operations.