2017 | OriginalPaper | Buchkapitel
19. Thermal Properties and Thermal Analysis: Fundamentals, Experimental Techniques and Applications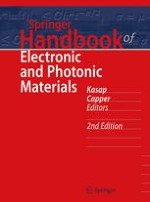 Erstes Kapitel lesen
Autoren: Safa Kasap, Jiří Málek, Roman Svoboda
Verlag: Springer International Publishing
Abstract
The chapter provides a summary of the fundamental concepts that are needed to understand the heat capacity
C
P
, thermal conductivity
κ
, and thermal expansion coefficient
α
L
of materials. The
C
P
,
κ
, and
α
L
of various classes of materials, namely, semiconductors, polymers, and glasses, are reviewed, and various typical characteristics are summarized. A key concept in crystalline solids is the Debye theory of the heat capacity, which has been widely used for many decades for calculating the
C
P
of crystals. The thermal properties are interrelated through Grüneisen's theorem. Various useful empirical rules for calculating
C
P
and
κ
have been used, some of which are summarized. Conventional differential scanning calorimetry (
DSC
) is a powerful and convenient thermal analysis technique that allows various important physical and chemical transformations, such as the glass transition, crystallization, oxidation, melting etc. to be studied. DSC can also be used to obtain information on the kinetics of the transformations, and some of these thermal analysis techniques are summarized. Temperature-modulated DSC, TMDSC, is a relatively recent innovation in which the sample temperature is ramped slowly and, at the same time, sinusoidally modulated. TMDSC has a number of distinct advantages compared with the conventional DSC since it measures the complex heat capacity. For example, the glass-transition temperature
T
g
measured by TMDSC has almost no dependence on the thermal history, and corresponds to an almost step life change in
C
P
.
The new Tzero DSC has an additional thermocouple to calibrate better for thermal lags inherent in the DSC measurement, and allows more accurate thermal analysis.