2014 | OriginalPaper | Buchkapitel
4. Thermal Relaxations in Gabbro and Basalt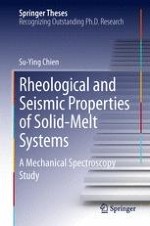 Erstes Kapitel lesen
Autor: Su-Ying Chien
Abstract
Since the Earth is not perfectly elastic and responds anelastically at seismic frequencies, seismic waves dissipate in time and space. Attenuation (
\({Q^{-1}}\)
) potentially provides direct information on the anelastic properties of the Earth. Anomalously weak regions, with low shear velocities and high attenuation, have been observed in the asthenosphere [
1
,
2
], in geothermal source regions (such as rift zones, subduction zones, mantle plumes and hotspots) [
3
] and at the core-mantle boundary [
4
]. These seismically anomalous zones of low velocity and high attenuation are often explained in terms of the presence of a small amount of melt or enhanced anelasticity due to high temperatures. Understanding the rheological properties of minerals and rocks remains important in order to interpret such seismological observations.