12.08.2016 | Ausgabe 10/2016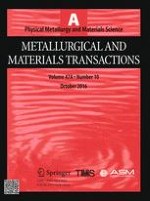 Thermal Stability Study from Room Temperature to 1273 K (1000 °C) in Magnesium Silicide
Zeitschrift:
Autoren:

Eleni-Chrysanthi Stefanaki, Euripides Hatzikraniotis, George Vourlias, Konstantinos Chrissafis, George Kitis, Konstantinos M. Paraskevopoulos, George S. Polymeris
Wichtige Hinweise
Manuscript submitted January 8, 2016.
Abstract
Doped magnesium silicide has been identified as a promising and environmentally friendly advanced thermoelectric material in the temperature range between 500 K and 800 K (227 °C and 527 °C). Besides the plethora of magnesium silicide thermoelectric advantages, it is well known for its high sensitivity to oxidation. Oxidation is one of the primary instability mechanisms of degradation of high-temperature Mg2Si thermoelectric devices, as in the presence of O2, Mg2Si decomposes to form MgO and Si. In this work, commercial magnesium silicide in bulk form was used for thermal stability study from room temperature to 1273 K (1000 °C). Various techniques such as DTA-TG, PXRD, and FTIR have been applied. Moreover, the application of thermoluminescence (TL) as an effective and alternative probe for the study of oxidation and decomposition has been exploited. The latter provides qualitative but very helpful hints toward oxidation studies. The low-detection threshold of thermoluminescence, in conjunction with the chemical composition of the oxidation byproducts, consisting of MgO, Mg2SiO4, and SiO2, constitute two powerful motivations for further investigating its viable use as proxy for instability/decomposition studies of magnesium silicide. The partial oxidation reaction has been adopted due to the experimental fact that magnesium silicide is monitored throughout the heating temperature range of the present study. Finally, the role of silicon dioxide to the decomposition procedure, being in amorphous state and gradually crystallizing, has been highlighted for the first time in the literature. Mg2Si oxidation takes place in two steps, including a mild oxidation process with temperature threshold of 573 K (300 °C) and an abrupt one after 773 K (500 °C). Implications on the optimum operational temperature range for practical thermoelectric (TE) applications have also been briefly discussed.