05.02.2018 | Ausgabe 10/2018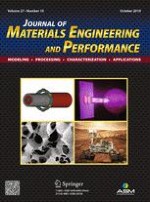 Thermal Treatment, Sliding Wear and Saline Corrosion of Al In Situ Reinforced with Mg2Si and Ex Situ Reinforced with TiC Particles
Zeitschrift:
Autoren:

A. G. Lekatou, A. Poulia, H. Mavros, A. E. Karantzalis
Wichtige Hinweise
This article is an invited submission to JMEP selected from presentations at the Symposium "Solidification, Casting, Foundry and Liquid Metal Processing," belonging to the Topic "Joining" at the European Congress and Exhibition on Advanced Materials and Processes (EUROMAT 2017), held September 17-22, 2017, in Thessaloniki, Greece, and has been expanded from the original presentation.
Abstract
The main objective of this work is to produce a composite consisting of (a) a cast heat-treatable Al-Mg-Si alloy with high contents of Mg for corrosion resistance and Si to offset the Mg-due poor castability (in situ hypoeutectic Mg2Si/Al composite) and (b) TiC particles at high enough volume fractions (≤ 15%), in order to achieve a satisfactory combination of wear and corrosion performance. TiCp/Al-7Mg-5Si (wt.%) composites were produced by flux-assisted casting followed by solution and aging heat treatment. Solution treatment led to a relatively uniform dispersion and shape rounding of Mg2Si precipitates and Si particles. TiC particle addition resulted in refinement of primary Al, modification of the Mg2Si Chinese script morphology and refinement/spheroidization of primary Mg2Si. Heat treatment combined with TiC addition notably improved the sliding wear resistance of Al-7Mg-5Si. A wear mechanism has been proposed. The TiC/Al interfaces remained intact of corrosion during potentiodynamic polarization of the heat-treated materials in 3.5 wt.% NaCl. Different main forms of localized corrosion in 3.5 wt.% NaCl were identified for each TiC content (0, 5, 15 vol.%), depending on specific degradation favoring microstructural features (topology/size/interface wetting) at each composition.