17.08.2018 | Ausgabe 2/2019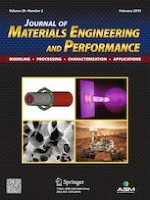 Thermo-Fluid Modeling of Selective Laser Melting: Single-Track Formation Incorporating Metallic Powder
Zeitschrift:
Autoren:

Subin Shrestha, Santosh Rauniyar, Kevin Chou
Wichtige Hinweise
This article is an invited paper selected from presentations at the symposium "Modeling and Simulation in Additive Manufacturing: Materials Design, Property Prediction and Process Control," held during MS&T'17, October 8-12, 2017, in Pittsburgh, Pa., and has been expanded from the original presentation.
Abstract
Selective laser melting (SLM) utilizes a laser source to melt and fuse metallic particles to form dense solid parts. Since molten metals have surface tension gradients, the thermo-capillary effect becomes a driving force of melt flow, which will subsequently determine the molten/solidified track as well as the build surface morphology. In this study, a 3D volume of fluid model has been developed to simulate heat transfer and fluid dynamic during single-track laser scanning. A sequential powder addition algorithm is applied to obtain random powder distribution over a thick substrate. Temperature-dependent thermo-physical properties of Ti-6Al-4V are used to define the material, and a volumetric heat source is included as an approximation to laser irradiation. As a result of continuous melting and solidifying, the thermal behavior, the molten metal flow and the free surface formation can be numerically analyzed. In addition, a two-layer simulation has been carried out to study the interlayer bonding. Simulations results are compared with SLM experiments using the single-track morphology acquired by white-light interferometry. The melt pool widths obtained from simulations are in good agreement with the measured single-track widths. On the other hand, it is observed that single tracks formed in SLM have an elevated bead height, which is not realized numerically.