28.03.2019 | Original Research | Ausgabe 7/2019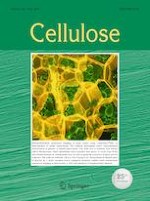 Thermo-mechanical, morphological and water absorption properties of thermoplastic starch/cellulose composite foams reinforced with PLA
Zeitschrift:
Autoren:

Mohammad M. Hassan, Marie J. Le Guen, Nick Tucker, Kate Parker
Wichtige Hinweise
Electronic supplementary material
Publisher's Note
Springer Nature remains neutral with regard to jurisdictional claims in published maps and institutional affiliations.
Abstract
Expanded polystyrene foams are lightweight and cheap, but they have excellent strength and insulation properties. However, their inability to biodegrade in traditional landfill situations makes their disposal problematic. Starch, a polysaccharide, has the potential to replace synthetic thermoplastics for some applications but starch-based foams are hydrophilic, which limits their applications. In this work, polylactide (PLA), a sustainably derived and industrially compostable polymer, was added to starch/cellulose composite foams to enhance their water barrier properties. PLA powder at various weight % was mixed with moistened starch and cellulose mixture, and composite foams were prepared by compression moulding at 220 °C. The thermomechanical and viscoelastic properties of the produced foam materials were analysed by thermogravimetric analysis, dynamic mechanical thermal analysis, mechanical testing, and also by the 3-point compressive mechanical quasi-static testing. It was found that the tensile strength of the composite foams increased with an increase in the PLA loading, which increased from 2.50 MPa for 0% PLA to 3.27 MPa for 9.72% PLA loading. The flexural strength also increased from 345.91 kPa for the 0% PLA to 378.53 kPa for the composite foam containing 4.86% PLA; beyond which the flexural strength started decreasing with an increase in PLA loading. Similarly, the stiffness of the starch/cellulose composite also increased with an increase in PLA loading up to 4.86%, and further increase in PLA loading decreased the stiffness. The flexural modulus of the composite foams increased from 522 MPa for 0% PLA loading to 542.85 MPa for the 4.86% PLA loading. The thermal stability of the starch/cellulose composite foams also increased and the water absorbency decreased with the increased PLA loading.
Graphical abstract
×