15.02.2019 | Ausgabe 6/2019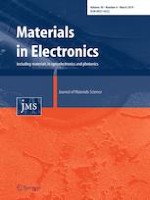 Thermo-optical correlation for room temperature synthesis: cold-sintered lead halides
Autoren:

Manish Kumar, Vani Pawar, Priyanka A. Jha, S. K. Gupta, A. S. K. Sinha, Pardeep K. Jha, Prabhakar Singh
Wichtige Hinweise
Publisher's Note
Springer Nature remains neutral with regard to jurisdictional claims in published maps and institutional affiliations.
Abstract
At present, the cost-effective synthesis and stability are major concerns for perovskite halide, which are high-efficient light absorbing solar cell materials. In this work, the cesium lead halides CsPbX
3
(where, X = I and Br) were synthesized by simple but unique cold sintering method. The structural (XRD and Raman), microstructural (SEM), electronic (XPS) and optical studies (UV–Visible spectra) revealed that the samples synthesized are in the single phase with P
nma
symmetry. The thermal stability of the samples synthesized was explored by estimating ΔG and ΔS. A negligible change in crystal structure and band gap of the samples is observed after 100 days of synthesis showing the stability of samples in the ambient condition. Along with structure–property correlation, the thermo-optical correlation for halide materials has also been established. A comparative of the band gap (on the basis of synthesis technique) suggests the samples synthesised by cold sintering are at par with other synthesis technique.