2017 | OriginalPaper | Buchkapitel
3. Thermodynamical Aspects of Electrochemical Reactions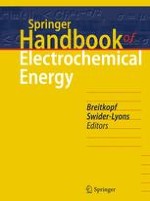 Erstes Kapitel lesen
Autor: Dietrich Hebecker
Verlag: Springer Berlin Heidelberg
Abstract
The beginning of the transition from fossil fuels to renewable resources is associated with a change in energy conversion technologies and with a growing importance of electricity (Sect.
3.2
). The application of electrochemical processes for the use and generation of electricity attains a new position in the energy conversion chain. Electrochemical reactions are associated with heat and electric power (work) exchange and are therefore thermodynamically complicated processes. Chemical and technical thermodynamics are important instruments for the understanding, classification and development of efficient electrochemical reactors and systems. As will be explained in this chapter, the analysis of electrochemical reactions on the basis of the Gibbs–Helmholtz equation allows for the definition of an equivalent temperature, which characterizes the energetic quality of the reaction under equilibrium conditions. The equivalent temperature is the ratio of the molar basic reaction enthalpy and the molar basic reaction entropy. The application of the exergy concept permits the determination of the irreversibilities and of the energetic quality of the exchanged heat as well as of all reaction educts and products (Sect.
3.2
). Electrochemical reactions are associated with energy exchange at least at three temperature levels: heat at reaction temperature, work with a normalized exergy of unity, and the chemical conversion itself at its equivalent temperature. Hence, electrochemical reactions can be energy transformations in the sense of thermodynamical cycles, which is of high technological relevance. In addition, each educt and product represents a temperature level or, more precisely, its own normalized exergy. Thus, it is also possible to regard energy transformation processes at the level of substances. Open and closed electrochemical cycles will be considered, evaluated on the basis of their thermodynamical characteristics and compared with conventional processes.