2015 | OriginalPaper | Buchkapitel
45. Thermodynamics of Continuum Damage Healing Mechanics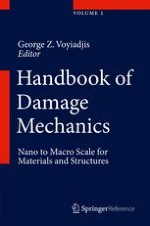 Erstes Kapitel lesen
Autoren: George Z. Voyiadjis, Amir Shojaei
Verlag: Springer New York
Abstract
In this chapter, the governing thermodynamic laws on the damage and healing processes are revisited. The solid mechanics thermodynamic framework provides a physically consistent description for the deformation mechanisms in solids, and it has been widely examined for the plasticity and damage processes in the literature (S. Yazdani, H.L. Schreyer, Combined plasticity and damage mechanics model for plain concrete. J. Eng. Mech.
116
(7), 1435–1450 (1990); J.L. Chaboche, On some modifications of kinematic hardening to improve the description of ratchetting effects. Int. J. Plast.
7
(7), 661–678 (1991); J.L. Chaboche, Cyclic viscoplastic constitutive equations, part I: a thermodynamically consistent formulation. J. Appl. Mech.
60
(4), 813–821 (1993); N.R. Hansen, H.L. Schreyer, A thermodynamically consistent framework for theories of elastoplasticity coupled with damage. Int. J. Solids Struct.
31
(3), 359–389 (1994); G. Voyiadjis, I. Basuroychowdhury, A plasticity model for multiaxial cyclic loading and ratchetting. Acta Mech.
126
(1), 19–35 (1998); J.L. Chaboche, A review of some plasticity and viscoplasticity constitutive theories. Int. J. Plast.
24
(10), 1642–1693 (2008)). Introduction of the healing process into the thermodynamic framework was formerly proposed by Voyiadjis et al. (A thermodynamic consistent damage and healing model for self healing materials. Int. J. Plast.
27
(7), 1025–1044 (2011)) where a physically consistent description for the healing process is provided.
Basically, the mathematical foundation of the thermodynamic-based solid mechanics modeling was developed formerly for capturing plasticity and damage in metallic structures and it is not directly applicable to polymeric materials. Polymers usually show strain softening after their initial yield and they show strain hardening at higher strain levels. To overcome the mathematical deficiency associated with the classical thermodynamic framework, Voyiadjis, Shojaei, and Li (A generalized coupled viscoplastic- viscodamage- viscohealing theory for glassy polymers. Int. J. Plast.
28
(1), 21–45 (2012a)) established a generalized formulation within the thermodynamic framework in which the mathematical competency for simulating the most nonlinear viscoplastic, viscodamage, and viscohealing effects in polymers was enhanced. They have successfully shown that the proposed framework is able to accurately capture the viscoplastic and viscodamage responses of polymers and the model has enough flexibility to capture the healing response in polymeric-based self-healing materials.