30.09.2016 | Research Paper | Ausgabe 6/2016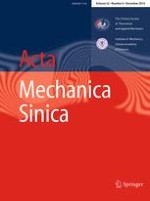 Thermoelastic analysis of multiple defects with the extended finite element method
Zeitschrift:
Autoren:

Honggang Jia, Yufeng Nie
Abstract
In this paper, the extended finite element method (XFEM) is adopted to analyze the interaction between a single macroscopic inclusion and a single macroscopic crack as well as that between multiple macroscopic or microscopic defects under thermal/mechanical load. The effects of different shapes of multiple inclusions on the material thermomechanical response are investigated, and the level set method is coupled with XFEM to analyze the interaction of multiple defects. Further, the discretized extended finite element approximations in relation to thermoelastic problems of multiple defects under displacement or temperature field are given. Also, the interfaces of cracks or materials are represented by level set functions, which allow the mesh assignment not to conform to crack or material interfaces. Moreover, stress intensity factors of cracks are obtained by the interaction integral method or the
M
-integral method, and the stress/strain/stiffness fields are simulated in the case of multiple cracks or multiple inclusions. Finally, some numerical examples are provided to demonstrate the accuracy of our proposed method.