2021 | OriginalPaper | Buchkapitel
Thermoelectric Systems for Sustainable Refrigeration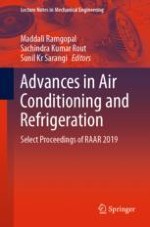 Erstes Kapitel lesen
Autor: Prasanta Kumar Satapathy
Verlag: Springer Singapore
Abstract
Today's concern over drastic environmental degradation and depletion of reserve of fossil fuel have made the scientists to search for some renewable energy sources and advanced thermodynamic systems so that irreversibility can be minimized. Thermoelectric system has a great potential to generate electricity in the range of some microwatt to 500 W on the principle of Seebeck effect. It can also generate refrigerating effect ranging from 5 mW to 500 W on the principle of Peltier effect. It utilizes the waste heat from industry, motor vehicle or the solar energy. The efficiency of this system is determined from non-dimensional parameter Figure of Merit,
ZT
. Review of the updated research papers reveals the development of thermoelectric materials which give higher values of
ZT
so that system efficiency is increased. Enhancement of
ZT
is done by doping the bulk material with some other suitable one in nanostructural form. This decreases the lattice thermal conductivity and increases the power factor. As a result,
ZT
value of a thermoelectric material increases. System performance can be enhanced by properly utilizing the available heat. This is made possible by integrating photovoltaic cells with thermoelectric generator. Minimizing the resistances to heat flow and current flow through the thermoelectric modules and thermal resistance matching for thermoelectric cooling system also enhances the performance of a thermoelectric system. Development of thermoelectric cooling system run by thermoelectric generator, known as thermoelectric self-cooling system, draws more attention for the research as this technology gives a sustainable cooling system.