2006 | OriginalPaper | Buchkapitel
Thermoelectromechanical Response of a Parallel Crack in a Functionally Graded Piezoelectric Strip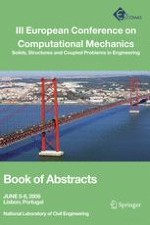 Erstes Kapitel lesen
Autoren: S. Ueda, H. Kondo
Verlag: Springer Netherlands
Possible use of distributed actuators and sensors are discussed in the light of smart or intelligent material technology. An area where smart material may have an advantage is to sense thermally induced distortions and to adjust for adverse thermomechanical conditions. As a result, several analytical studies concerned with piezothermoelasticity of homogeneous materials were reported.
Recently, with the help of the development in modern material processing technology, functionally graded piezoelectric materials (FGPMs) have been developed to improve their reliability, and the electromechanical fracture of the FGPM has received much attention. Moreover, so much attention has been focused on the thermoelectromechanical fracture analysis of homogeneous piezoelectric materials. However, because the FGPMs are just an emerging class of piezoelectric materials, there are still very few articles considering the fracture problem in an FGPM under the thermoelectromechanical loadings. For example, Wang and Noda investigated the thermally induced fracture of a smart functionally graded composite structure, and the present author also studied the fracture of a functionally graded piezoelectric strip due to the thermal load.
In this paper, the mixed-mode thermoelectromechanical fracture problem for a functionally graded piezoelectric material strip is considered. It is assumed that the thermoelectroelastic properties of the strip vary continuously along the thickness of the strip, and that the strip is under the thermoelectric loadings. The crack faces are supposed to be insulated thermally and electrically. By using the Fourier transform, the thermal and electromechanical problems are reduced to a singular integral equation and a system of singular integral equations, respectively, which are solved numerically. Numerical calculations are carried out, and detailed results are presented to illustrate the influence of the crack length, the crack location and the material nonhomogeneity on the stress and electric displacement intensity factors. The temperature-stress distributions are also presented. The following facts can be found from the numerical results. Firstly, the normalized intensity factors are under the great influence of the geometric parameters. Secondly, the intensity factors of crack near the free surfaces due to the thermal load are not so large. This phenomenon is quite different from the intensity factors under the pure electric load. Finally, the effect of the material nonhomogeneity on the intensity factors depends on the geometric parameters.