01.02.2020 | ORIGINAL PAPER | Ausgabe 2/2020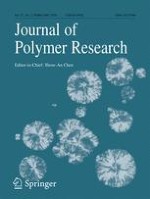 Thermomechanical and viscoelastic properties of green composites of PLA using chitin micro-particles as fillers
Zeitschrift:
Autoren:

Mohammad M. Hassan, Kiyohito Koyama
Wichtige Hinweise
Publisher's note
Springer Nature remains neutral with regard to jurisdictional claims in published maps and institutional affiliations.
Abstract
Many thermoplastic biocomposites made with non-biodegradable polymers as a matrix polymer are not biodegradable. In this work, biodegradable polylactide (PLA)/chitin micro-particle composites were successfully prepared by melt blending without using any compatibilizer or processing aid. The effects of the addition of chitin micro-particles to PLA on its thermal stability, physicomechanical properties and microstructures were evaluated by thermo-gravimetric analysis, dynamic mechanical thermal analysis, differential scanning calorimetry, tensile strength measurement, and scanning electron microscopy. It was found that the addition of chitin micro-particle to PLA increased the stiffness, tensile strength, and hydrophobicity of PLA but negatively affected its thermal properties and elongation. The tensile strength exhibited by the pristine PLA was 41.5 MPa, which increased to 48.5 for the chitin loading of 3% but a further increase in the chitin loading resulted in a reduction in tensile strength. The increase in chitin loading resulted in an increase in stiffness of PLA as the storage modulus increased from 3.21 GPa for the neat PLA to 3.48 GPa for the PLA loaded with 3% chitin microparticles. The results show that chitin can be used for the reinforcement and also to enhance the moisture barrier properties of PLA.