01.01.2015 | Ausgabe 1/2015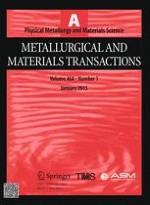 Thermomechanical Processing of Fe-6.9Al-2Cr-0.88C Steel: Intercritical Annealing Followed by Quench Tempering
Zeitschrift:
Autoren:

Ahmed Ismail Zaky Farahat, Masoud Ibrahim Mohamed
Wichtige Hinweise
Manuscript submitted April 21, 2013.
Abstract
A hot forged Fe-0.88 pct C-6.9 pct Al steel was intercritically annealed at temperatures in the range of 1173 K to 1283 K (900 °C to 1010 °C), and subsequently tempered at 623 K (350 °C) to enhance the mechanical properties by microstructure modification. Room temperature compression tests were carried out to evaluate the influence of the intercritical annealing temperature on the mechanical properties. A substructure was present in the microstructure after each intercritical annealing treatment. The substructure was absent after annealing at 1263 K (990 °C) and higher temperatures. Over-aging occurred when the annealing temperature was increased to 1283 K (1010 °C). A remarkable increase in strength and ductility was achieved after annealing at 1263 K (990 °C).